Cacao and Sound Ceremony – 01/06/2024
01/06/2024 @ 4:00 pm

-

10:00 pm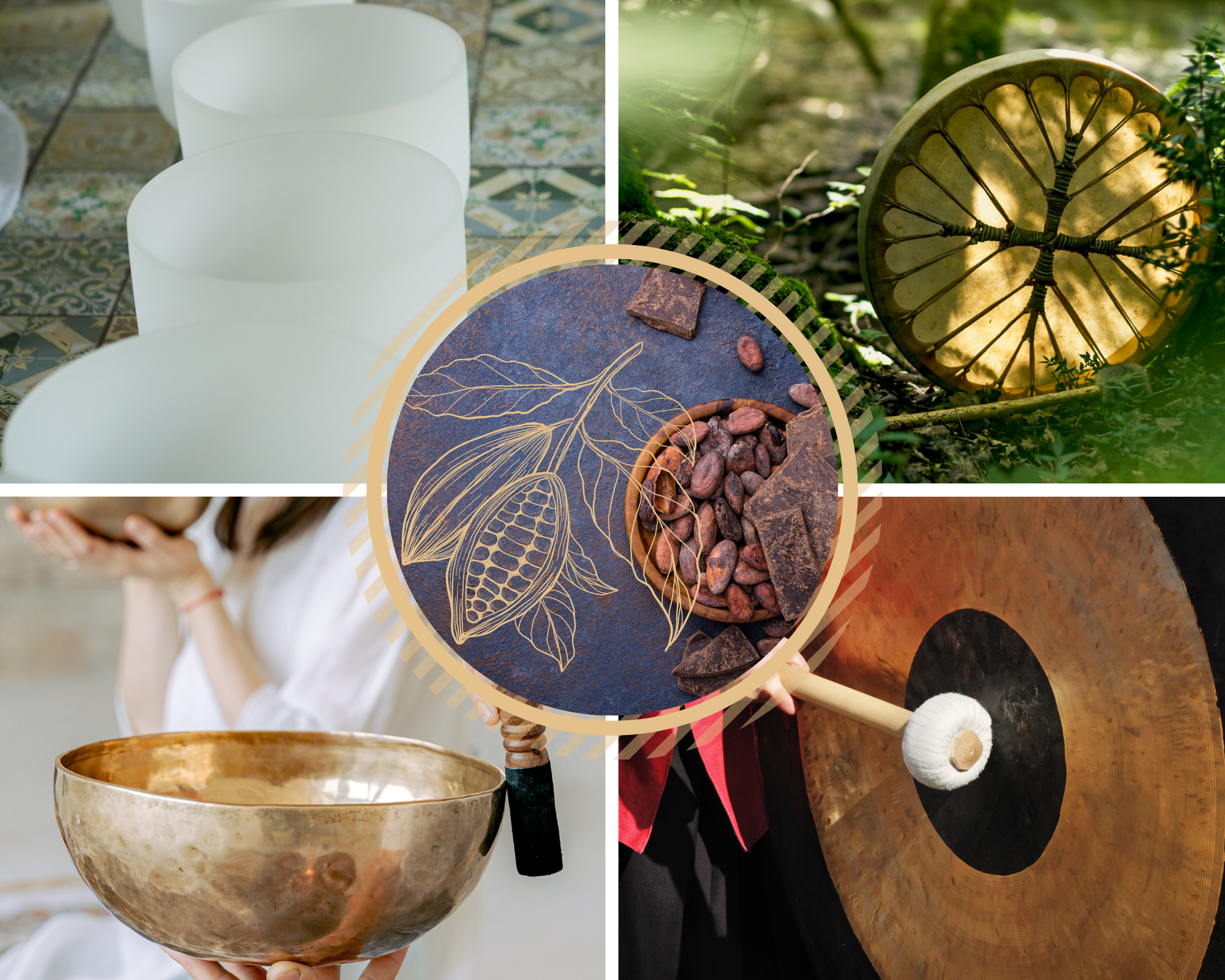 Embark on a holistic journey at our Cacao and Sound Ceremony, starting with a grounding forest walk that sets the stage for profound transformation. Begin by connecting with nature's serene embrace as you traverse the forest, allowing the soothing sounds of rustling leaves and the whisper of the wind to ground your senses.
Following the forest walk, we'll gather to sip on the heart-opening elixir of cacao, inviting its gentle magic to infuse your being. As the cacao processes through your system, you'll embark on an hour-long sound bath, where the harmonious vibrations will wash over you, inviting deep relaxation and meditation.
Cacao, renowned for its heart-opening properties, paves the way for a transformative journey. It creates the perfect foundation to deepen your experience with the soothing sound vibrations, guiding you on a path of self-discovery.
Join us for this unique opportunity to harmonize your mind, body, and soul. Our sliding scale pricing of $50 to $70 ensures accessibility for all, so you can immerse yourself in this extraordinary journey of heart and soul. Reserve your spot now and let the magic of the forest, cacao, and sound lead you to profound self-discovery and relaxation.
We are truly grateful for the tremendous enthusiasm and interest in our events. As of now, our capacity for these gatherings is limited. However, there's good news on the horizon! We're in the midst of expanding our facilities, and by the first quarter of the upcoming year, we anticipate being able to welcome even more participants.
*** To ensure that no spot goes unused due to last-minute cancellations, we maintain a waiting list for each event. Should any spots become available, we will promptly offer them to those on the waiting list.
If you're passionate about our cause and would like to aid in our expansion efforts, please consider supporting us through donations or volunteering. You can get in touch with us at info@projectpc.org to learn more or to lend a hand.
A massive thank you to everyone who has already stepped forward to assist us. Your contributions, both big and small, drive our mission forward. Together, we're making a difference and creating memorable
experiences.
Cacao is generally a vary safe. But here is a link to some information about different medications and health issues should be considered when taking Cacao. Please let us know if you have any concerns or have any of the listed conditions so we can plan appropriately.
*** Support Through Alternative Contributions
We deeply appreciate the generosity and support of our community. If you're considering assisting us through means other than monetary donations, please review our guidelines on acceptable trade offerings. Alternative Contributions